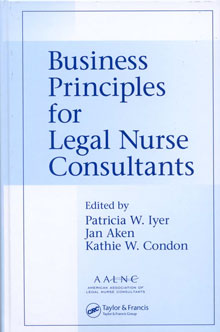 Edited by Patricia W. Iyer, Jan Aken, and Kathie W. Condon
344 pages, hardbound
CRC Press
Price: $125.00
Questions about shipping?
Table of Contents | About the editors | Foreward | About the contributors
Designed to complement Legal Nurse Consulting: Principles and Practices
Being a legal nurse consultant is your calling. You love what you do. You are ready to go into practice for yourself. You have the education, the drive, and the ability – but is that really enough to succeed?
Business Principles for Legal Nurse Consultants is an invaluable resource that can help you along the way. The text combines the collective wisdom and experience of LNCs who have already built their own thriving practices. These trailblazing professionals reveal the secrets of their successes and the pitfalls they encountered through chapters that illustrate how to:
Develop a straightforward, comprehensive business plan
Cultivate the precise marketing mix that gets results
Engage the right technology for your web site and office needs
Effectively manage finances, employees, contractors – and change
Build and maintain beneficial client relationships
Leverage what you know to become a successful expert witness
Deal with that potential minefield known as ethics
While these issues may seem overwhelming, they don't have to be. Business Principles for Legal Nurse Consultants is an essential single-source guide that can help you navigate through the details so you can get on with your career!
Table of Contents | About the editors | Foreward | About the contributors
Table of Contents
1 Getting Started as a Legal Nurse Consultant
Jenny Beerman MN, RN, LNCC and Lynda Watson BSN, RN
2 Essentials of Marketing
Debra Summers BSN, RN, LHRM, LNCC
3 Website Design and Maintenance
Teresa M. Treiger MA, RN, CCM, CPUR
4 Technology and the Office
Patricia Karalow, BA, RN, LNCC
5 Working with Subcontractors
Deborah D'Andrea BSN, BA, RN
6 Working with Employees
Rose Clifford, RN
7 Billing and Collections
Pattie Patterson RN, LNCC, CLCP
8 Ethics and the Legal Nurse Consultant's Business
Betty Joos MEd, BSN, RN
9 Managing Change
Elena Capella, MSN/MPA, CPHQ, LNCC
10 Client Relationships
Robert Morrison, BSN, RN
11 Business Aspects of Expert Witnessing
Lenora Smith, MSN, RN
PATRICIA W. IYER, MSN RN LNCC is the former president of Med League Support Services, Inc., a company she founded in 1987 and sold in 2015 which provided legal nurse consulting for attorneys at www.medleague.com. She is also President, The Pat Iyer Group, where she helps legal nurse consultants succeed. See the resources for legal nurse consultants at this site www.LNCAcademyinc.com.
Patricia Iyer has been a legal nurse consultant since 1987 when she first began reviewing cases as an expert witness. She achieved national prominence through her texts and many contributions to the legal nurse consulting field. She was the chief editor of Legal Nurse Consulting Principles and Practices, Second Edition, the core curriculum for legal nurse consulting. She completed 5 years on the Board of Directors of the American Association of Legal Nurse Consultants including a term as president.
LNCEU.com
Let us introduce you to our multimedia, in-depth, never-leave-your-home programs. You receive the best content for expanding your legal nurse consulting and business skills. Think of it like the "Book of the Month Club" except you get 2 webinars every month – for one low fee. Get all the details at this link.