Program Description
An aggressive man becomes combative. The healthcare providers restrain him by sitting on his chest. Within minutes he is dead. A woman placed in seclusion is to be checked every 15 minutes. She is found dead. The death of a patient is an avoidable tragedy, and one that can stimulate a lawsuit.
This audioprogram focuses on the appropriate use of seclusion and restraints, and strategies to evaluate a psychiatric nursing malpractice claim involving seclusion or restraints. It is geared to attorneys, legal nurse consultants and healthcare providers. Dr. Wanda Mohr is a national expert on the use of restraints.
Questions about our programs?
Presenter
Wanda K. Mohr PhD APRN FAAN received her doctorate in nursing from the University of Texas at Austin in 1995. Presently she is an Associate Professor of Psychiatric Mental Health Nursing at University of Medicine and Dentistry School of Nursing. She is a certified advanced practice nurse in Child and Adolescent Psychiatric Mental Health Nursing. She is a recognized leader in the movement to reform conditions in mental health settings, with special emphasis on seclusion and restraint. Dr. Mohr is recognized for her work on institutional violence on troubled children, and has testified before the United States Congress representing national agencies that advocate for children's mental health.
She has over 30 years of clinical experience with troubled children and their families ranging across a variety of health care settings. Since completing her doctorate in 1995, she has authored over 70 professional journal articles, chapters, and books on the subject of mental health and has been consulted by a variety of state and federal agencies on the issue of children's responses to violence. Dr. Mohr is a fellow in the American Academy of Nursing and has been recognized by her peers as evidenced by numerous national and international awards.
Dr. Wanda Mohr answered these questions:
How many people die in seclusion or restraints each year?
Is there an impact on patients who watch another patient being restrained?
What are a few myths associated with restraints?
What are the conditions that cause people to die while in restraints?
How are you defining restraints- a product sold from a catalog or the act of preventing someone from hurting themselves or others?
What does the term "seclusion" mean?
What keeps a patient within a seclusion room?
What types of places within healthcare use the types of restraints that we have been discussing?
How often are leather restraints used at this time?
What entities regulate the use of restraints?
What type of training should be available for staff using restraints?
What group of healthcare providers typically does not get trained on using restraints?
Why would restraints be used in a public school?
What are the alternatives that are available to the staff when a patient needs to be restrained?
Do staff behaviors come into play in some of the injuries that you have seen in dealing with restraints?
What is a common staff behavior that affects the outcome of restraining a patient?
What would the ideal milieu look like to structure the environment or the interactions in such a way that the escalation wouldn't occur?
What are the financial costs associated with a restraint episode?
How does the psychiatric illness of the patient affect the ability of the judge, jury or arbitrator to identify with the patient?
What are the psychological, sequelae or effects of being restrained or observing somebody who is being tied down or brought down to the floor?
Related Product:
Get the essential text for evaluating nursing malpractice cases and save 10% off the purchase price. This 2 volume set is crucial for learning about how nursing malpractice cases are evaluated and litigated.
Edited by Patricia Iyer, Barbara Levin, Kathleen Ashton, and Victoria Powell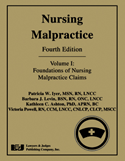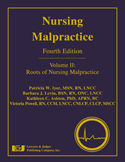 4th Edition, 2 volumes: Volume I (Beige), 736 pages
Volume II (Blue), 960 pages
Both volumes: Save 10% over usual price of $205.20!
Price: $184.68 plus shipping and handling when purchased with Death in Seclusion or Restraints
Nursing Malpractice, Fourth Edition consists of two separate books: Volume 1 and Volume 2. Volume 1, Foundations of Nursing Malpractice Claims, covers broad range topics such as patient safety, nursing practice, damages, and litigation of nursing malpractice claims. Included are new chapters on the view of the actuary and e-discovery. Volume 2, Roots of Nursing Malpractice, takes a closer look at more specific role, with detailed chapters on obstetrics, critical care, psychiatric, medical surgical, orthopaedic, managed care and emergency nursing, among many others. Included are new chapters on respiratory care, school nursing, dialysis therapy, telephone triage, nurse practitioners, healthcare-acquired conditions, and falls and their consequences.
A unique blend of attorneys, nurse attorneys, nurse expert witnesses, legal nurse consultants, physicians, pharmacists, toxicologists, jury consultants, actuaries and legal photographers contributed chapters for this book. This text remains the only one on the market written for attorneys on nursing malpractice using such a broad base of expert authors. In short, this comprehensive book is an excellent and important addition to your nursing malpractice library.
Both volumes are normally $205.20 plus shipping and handling. When purchased with Death in Seclusion or Restraints, pay only $184.68 plus shipping and handling. Save 10%! View your cart to purchase!
LNCEU.com
Let us introduce you to our multimedia, in-depth, never-leave-your-home programs. You receive the best content for expanding your legal nurse consulting and business skills.
Think of it like the "Book of the Month Club" except you get 2 webinars every month – for one low fee. Get all the details here.