You are working on a medical malpractice case involving the operating room. You wonder, "Is this a viable claim?" Do you know how to screen operating room cases for merit? Do you know the roles, responsibilities and special language of the operating room?
Gain insider information from an OR nurse, who will take you behind the OR door into the unique world of the operating room. You will gain confidence in your ability to recognize key operating room safety issues. You will gain credibility with your attorney clients when you are reviewing operating room cases.
In this new one hour webinar you will learn how to:
Screen perioperative cases for merit
Identify the three phases of the perioperative experience
Identify the roles of "key players" in a surgical procedure
Recognize the significance of OR terminology
Identify common safety issues encountered in the Operating Room
Presenter
Dianna McCorkle R.N, B.S.N, CNOR is a certified operating room nurse with ten years of extensive experience as a perioperative staff nurse, educator and expert witness. She currently is involved in safety and nursing management in the O.R. She is the coauthor of Perioperative Nursing Liability, a chapter in Patricia Iyer, Barbara Levin, Kathleen Ashton and Victoria Powell, Nursing Malpractice, Fourth Edition, 2011, Lawyers and Judges Publishing Company, Tucson. Dianna is a perioperative nursing expert witness who has presented nationally about patient safety issues.
People said:
"This was a most informative webinar. The OR is an area in which I have no experience, so I learned a lot. Thanks you so much for hosting such a great webinar. I look forward to being part of some of the upcoming webinars you mentioned as well."
Jocelyn Landis, RN, CLNC
NAPLES, FL 34109
Related Product:
Get the essential text for evaluating nursing malpractice cases and save 10% off the purchase price. This 2 volume set is crucial for learning about how nursing malpractice cases are evaluated and litigated.
Edited by Patricia Iyer, Barbara Levin, Kathleen Ashton, and Victoria Powell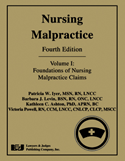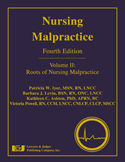 4th Edition, 2 volumes
Volume I (Beige), 736 pages Volume II (Blue), 960 pages
Both volumes: Save 10% over usual price of $205.20!
Price: $184.68 plus shipping and handling when purchased with Deciphering Operating Room Nursing Liability Webinar
Nursing Malpractice, Fourth Edition consists of two separate books: Volume 1 and Volume 2. Volume 1, Foundations of Nursing Malpractice Claims, covers broad range topics such as patient safety, nursing practice, damages, and litigation of nursing malpractice claims. Included are new chapters on the view of the actuary and e-discovery. Volume 2, Roots of Nursing Malpractice, takes a closer look at more specific role, with detailed chapters on obstetrics, critical care, psychiatric, medical surgical, orthopaedic, managed care and emergency nursing, among many others. Included are new chapters on respiratory care, school nursing, dialysis therapy, telephone triage, nurse practitioners, healthcare-acquired conditions, and falls and their consequences.
A unique blend of attorneys, nurse attorneys, nurse expert witnesses, legal nurse consultants, physicians, pharmacists, toxicologists, jury consultants, actuaries and legal photographers contributed chapters for this book. This text remains the only one on the market written for attorneys on nursing malpractice using such a broad base of expert authors. In short, this comprehensive book is an excellent and important addition to your nursing malpractice library.
Both volumes are normally $205.20 plus shipping and handling. When purchased with Deciphering Operating Room Nursing Liability Webinar, pay only $184.68 plus shipping and handling. Save 10%! View your cart to purchase!
Contact hours
This program has been approved for 1 contact hour through an arrangement with Taylor College. The provider is approved by the California Board of Registered Nursing, provider number CEP-3285. CE credit is accepted in all states that require mandatory continuing education for relicensure. Call 1-800-743-4006 with CE questions. There will be a $15 fee, paid directly to the provider, if you want the CE certificate for 1 hour.
LNCEU.com
Let us introduce you to our multimedia, in-depth, never-leave-your-home programs. You receive the best content for expanding your legal nurse consulting and business skills. Think of it like the "Book of the Month Club" except you get 2 webinars every month – for one low fee. Get all the details at this link.