Audience
This program is for attorneys, legal nurse consultants and clinicians.
Do you want to sharpen your skills in understanding liability issues of hospital acquired infection cases?
Are you a legal nurse consultant or attorney who is asked to evaluate an infection case for liability, causation and damages?
Are you a clinician interested in understanding the medical and legal implications of these infections?
Content
Let's look at the facts: Hospitals are increasingly being penalized for the development of hospital acquired infections (HAIs). CMS reimbursement guidelines have changed the game. HAIs have increased the liability of not only hospitals, but also physicians. Seven out of the 17 conditions on the non-reimbursable list relate to infections. We will discuss and review 3 of the events that hospitals are not reimbursed by Medicare and many of the private payors for
Catheter-associated urinary tract infections or CAUTIs-most common HAI as reported by the Joint Commission
Intravenous catheter associated blood infections
C. Difficile infection
Starting in 2011, hospital data about infection rates became available to the public. Catheter associated urinary tract infections, the most common event, as well as vascular or central line catheter-associated infection and C-difficile are all reportable events. Mortality rates and the resulting healthcare expense burden have brought national attention to this issue.
Patients and their families are actively pursuing claims against facilities for contracting hospital-acquired infections. Attorneys and legal nurse consultants need to understand how to evaluate these cases. Catheter associated urinary tract infections, intravenous catheter associated blood infections and C-difficile hospital acquired infections are important and timely healthcare safety issues that have caught the attention of both plaintiff and defense attorneys. These types of infections are an urgent issue in part due to healthcare clinician transmission, antibiotic resistance and event mortality.
Objectives
At the end of this program you will know
How hospital acquired infection cases are treated and prevented
Common strategies used by plaintiff attorneys to prove a hospital acquired infection case
Common defense strategies
Presenter
As a corporate legal nurse consultant, Valerie Lane RN CLNC knows how important this issue is from the clinical, legal, and financial perspectives. Ms. Lane is managing partner of Lane & Associates, a private legal nurse consulting firm. Lane & Associates is based in Springville California, located in the Central Valley of California.
She has been a registered nurse for 19 years and a legal nurse consultant since 2007. Her experience includes the operating room, PACU and corrections. She has presented on various topics and is currently a corporate legal nurse consultant for Dignity Health; a large west coast based healthcare delivery system. She is an active member of Juris Educational Resource Knowledge group.
---
"Valerie Lane's C-difficile presentation was well organized and received. It was an extremely relevant topic. The presentation will be useful as a reference during case investigations."
~Diane Luthi, RN, MSN, LNC-Legal Nurse Consultant Reno Nevada
---
Save on Related Product:
The following Bonus is available at the discounted price ONLY when purchased with Hospital Acquired Infections – Whose fault are they? Select it to deepen your knowledge.
Get the essential text for evaluating nursing malpractice cases and save 10% off the purchase price. This 2 volume set is crucial for learning about how nursing malpractice cases are evaluated and litigated.
Edited by Patricia Iyer, Barbara Levin, Kathleen Ashton, and Victoria Powell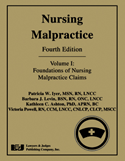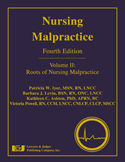 4th Edition, 2 volumes
Volume I (Beige), 736 pages Volume II (Blue), 960 pages
Both volumes: Save 10% over usual price of $205.20!
Price: $184.68 plus shipping and handling when purchased with Hospital Acquired Infections – Whose fault are they?
Nursing Malpractice, Fourth Edition consists of two separate books: Volume 1 and Volume 2. Volume 1, Foundations of Nursing Malpractice Claims, covers broad range topics such as patient safety, nursing practice, damages, and litigation of nursing malpractice claims. Included are new chapters on the view of the actuary and e-discovery. Volume 2, Roots of Nursing Malpractice, takes a closer look at more specific role, with detailed chapters on obstetrics, critical care, psychiatric, medical surgical, orthopaedic, managed care and emergency nursing, among many others. Included are new chapters on respiratory care, school nursing, dialysis therapy, telephone triage, nurse practitioners, healthcare-acquired conditions, and falls and their consequences.
A unique blend of attorneys, nurse attorneys, nurse expert witnesses, legal nurse consultants, physicians, pharmacists, toxicologists, jury consultants, actuaries and legal photographers contributed chapters for this book. This text remains the only one on the market written for attorneys on nursing malpractice using such a broad base of expert authors. In short, this comprehensive book is an excellent and important addition to your nursing malpractice library.
Both volumes are normally $205.20 plus shipping and handling. When purchased with Hospital Acquired Infections – Whose fault are they?, pay only $184.68 plus shipping and handling. Save 10%! View your cart to purchase!
Contact hours
This program has been approved for 1 contact hour through an arrangement with Taylor College. The provider is approved by the California Board of Registered Nursing, provider number CEP-3285. CE credit is accepted in all states that require mandatory continuing education for relicensure. Call 1-800-743-4006 with CE questions. There will be a $15 fee, paid directly to the provider, if you want the CE certificate for 1 hour.
LNCEU.com
Let us introduce you to our multimedia, in-depth, never-leave-your-home programs. You receive the best content for expanding your legal nurse consulting and business skills. Think of it like the "Book of the Month Club" except you get 2 webinars every month – for one low fee. Get all the details at this link.