Program Description
Obstetrical nursing practice is intertwined with high risk for patient injury. The signs of fetal distress must be quickly detected and acted upon in labor and delivery suites. Joanna McGrath, an experienced OB nurse educator share tips about this highly litigated area. You will learn to identify the most common sources of obstetrical nursing malpractice, including fetal distress and shoulder dystocia.
Is it enough for the staff nurse to tell the obstetrician there is a problem? We will explore issues surrounding the chain of command.
Evaluation and Post-Test for CEUs (pdf)
Questions about our programs?
Presenter
Joanna McGrath RNC MSN has extensive experience is an obstetrical nursing expert witness. She has hands on clinical experience working in Philadelphia area hospitals. Joanna is currently a professor of maternal child nursing at Villanova University in Villanova, PA.
Joanna answered these questions:
What are the human and financial costs of birth injury cases?
What are standards in obstetrical nursing practice, where do they come from, and how are they used?
How does documentation affect analysis of liability?
What are the strengths and weaknesses of electronic medical records?
What are high risk events in labor and delivery?
A frequent allegation in birth injury cases is that there was a delay in treatment of fetal distress. What are the nursing responsibilities in this aspect of practice?
What are the areas of risk for physicians involved in a delay in treatment of fetal distress?
How does the chain of command work within the labor and delivery suite?
Who is at risk for shoulder dystocia?
What are some of the labor factors that contribute to shoulder dystocia?
What is the difference between fundal pressure and suprapubic pressure?
Are there ways in which laboring mothers contribute to the outcome of shoulder dystocia?
A common area of liability is lack of or inadequate assessment of the patient upon admission to the hospital. How does the nurse potentially contribute to this deviation?
Could you comment on the value of a rapid response team for the OB area?
One of the patient safety recommendations is to perform a debriefing after every delivery. What is the value of performing such a review?
What are the responsibilities of nurses? Doesn't the physician have the last say?
How does disruptive behavior by physicians affect labor and delivery nurses?
How can a nurse deal with a disruptive physician?
How do nurses get in trouble in the labor and delivery area?
What can an obstetrical nursing expert do to help screen a potential obstetrical nursing case?
What are the current theories regarding the development of cerebral palsy during the prenatal period and how do they affect settlement of cases?
Related Reading
From: "Obstetrical Nursing Malpractice Issues", by Joanne McDermott in Patricia Iyer, Barbara Levin, Kathleen Ashton and Victoria Powell, (Editors)Nursing Malpractice, Fourth Edition, Lawyers and Judges Publishing Company.
Labor and Delivery: High Risk
Some practices in obstetrical nursing are especially vulnerable to problems and subsequent allegations of malpractice. Some would argue that the increase in litigation of obstetrical cases is directly proportional to advances in technological capabilities during pregnancy, labor and delivery. However, while cases involving problems with fetal monitoring do constitute a significant percentage of liability claims against nurses, the majority of nursing liability problems arises from other "low-tech" sources. Seven major omissions that form the basis for many obstetrical nursing malpractice cases include:
Failure to appropriately monitor maternal and fetal status; failure to correctly interpret fetal monitor strips
Inappropriate oxytocin administration, use or monitoring
Failure to notify the physician in a timely fashion
Initiation of procedures without adequate client information or consent
Improper sponge and instrument counts during cesarean surgery
Failure to use chain of command when physician does not respond quickly or appropriately.
Failure to recognize signs of uterine rupture
A. Failure to appropriately monitor maternal and fetal status; failure to correctly interpret fetal monitor strips
The Controlled Risk Insurance Company (CRICO) provides professional liability insurance to all Harvard-affiliated physicians, healthcare institutions, and their employees. Between 1987 and 1996, nurses were named in 70 percent of all CRICO claims that named non-physicians, and 14 percent of all CRICO claims. The most frequent allegation in CRICO's perinatal case is delay in diagnosis of fetal distress. Delay in diagnosis of fetal distress is a national phenomenon and was reported in 1998 to be a factor in 88 percent of malpractice cases related to neurologically impaired newborns, up from 41 percent ten years earlier. Liability regarding fetal heart-rate monitoring most frequently attaches to the nursing staff, as the nurse is the primary healthcare provider for a woman in labor. Before the advent of electronic fetal heart-rate monitoring, nurses and physicians auscultated the fetal heart tones with a weighted, oversized stethoscope or a "fetascope" (a stethoscope with an additional metal headpiece that relied on bone conduction through the listener's skull to pick up fetal heart tones). Fetal heart rates were counted "manually" by the individual listeners, which obviously built in great variations in accuracy.
The invention of the electronic fetal heart-rate monitor permitted more accurate assessment of fetal response to contractions and labor. Electronic fetal heart-rate monitoring (EFM) is accomplished by means of an ultrasonic transducer placed externally, or an electrode placed internally on the fetal presenting part (usually the infant's scalp). The heart rate is printed on a continuous strip of graph paper as a continuous line or tracing. Uterine contractions are most frequently measured by an externally placed device. An internal uterine pressure monitor is also available, but is used less often than the external monitor, primarily when the adequacy of contractions is questionable, such as in labor arrest difficulties. This information is printed continuously on a two-channel recorder.
Related Product:
Get the essential text for evaluating nursing malpractice cases and save 10% off the purchase price. This 2 volume set is crucial for learning about how nursing malpractice cases are evaluated and litigated.
Edited by Patricia Iyer, Barbara Levin, Kathleen Ashton, and Victoria Powell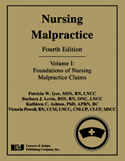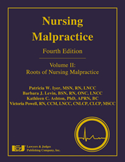 4th Edition, 2 volumes
Volume I (Beige), 736 pages Volume II (Blue), 960 pages
Both volumes: Save 10% over usual price of $205.20!
Price: $184.68 plus shipping and handling when purchased with When the Dream is Shattered: Legal Risks of Labor and Delivery!
Nursing Malpractice, Fourth Edition consists of two separate books: Volume 1 and Volume 2. Volume 1, Foundations of Nursing Malpractice Claims, covers broad range topics such as patient safety, nursing practice, damages, and litigation of nursing malpractice claims. Included are new chapters on the view of the actuary and e-discovery. Volume 2, Roots of Nursing Malpractice, takes a closer look at more specific role, with detailed chapters on obstetrics, critical care, psychiatric, medical surgical, orthopaedic, managed care and emergency nursing, among many others. Included are new chapters on respiratory care, school nursing, dialysis therapy, telephone triage, nurse practitioners, healthcare-acquired conditions, and falls and their consequences.
A unique blend of attorneys, nurse attorneys, nurse expert witnesses, legal nurse consultants, physicians, pharmacists, toxicologists, jury consultants, actuaries and legal photographers contributed chapters for this book. This text remains the only one on the market written for attorneys on nursing malpractice using such a broad base of expert authors. In short, this comprehensive book is an excellent and important addition to your nursing malpractice library.
Both volumes are normally $205.20 plus shipping and handling. When purchased with When the Dream is Shattered: Legal Risks of Labor and Delivery, pay only $184.68 plus shipping and handling. Save 10%! View your cart to purchase!
LNCEU.com
Let us introduce you to our multimedia, in-depth, never-leave-your-home programs. You receive the best content for expanding your legal nurse consulting and business skills. Think of it like the "Book of the Month Club" except you get 2 webinars every month – for one low fee. Get all the details at this link.