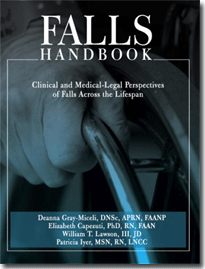 Clinical and Medical-Legal Perspectives of Falls Across the Lifespan
Deanna Gray Micelli DNSc, APRN, FAANP, Elizabeth Capezuti PhD, FAAN, William Lawson III, JD, and Patricia W. Iyer, MSN RN LNCC
128 pages. Softcover
Published by The Pat Iyer Group
Price: $49.95
Questions about shipping?
What an expert in the field says about this book
"This resource represents the best collection of evidence based data concerning the assessment and prevention of falls for adults and children, as well as the care of the person at risk or with a history of falling."
Neville E. Strumpf, PhD., RN C., FAAN
Edith Clemmer Steinbright Professor in Gerontology and Director of the Center for Gerontological Nursing Science, University of Pennsylvania
Written by experts in the clinical and liability issues associated with falls, Falls Handbook is a current and comprehensive text on one of the most difficult aspects of medical care: fall prevention. The authors define falls, identify those at risk, and explain the consequences of falls. The text defines the hazards of falls in public places, homes and healthcare facilities. Medical, age-related, and medication-related causes of falls are clearly defined.
You will learn what the caregiver should assess after a fall, and how the plan of care should be changed. You will learn what can and should be done to prevent falls. The rationale for moving away from the use of restraints and side rails is explained. The text concludes with a description of the analysis of the liability and damages associated with a fall. You will learn how meritorious cases are identified. Common allegations by plaintiff's experts are listed, along with 9 defense strategies. The use of punitive damages in falls cases is defined.
Features:
Clinical tips
Critical thinking questions
Verdicts involving falls cases
Case materials with analysis of the claim
Extensive references
Chapters:
Overview of Falls in America
The Multifactorial Nature of Falls
Prevention of Falls in the Medical Care Setting
Prevention of Falls in Nursing Homes
Physical Restraints and Side Rails in the Elderly
Legal Aspects of Falls
Appendix of Cases
Review
The book contains a lot of detailed information regarding falls, factors associated with falls, and the prevention of falls. I believe that this would be a useful reference to facilities, especially to persons involved in education/training and/or quality assurance and improvement activities. The strongest feature of this book is the detailed information provided regarding falls, prevention and legal aspects. The text boxes highlight important information to the reader and critical thinking points help to focus the reader's attention on important aspects related to falls.
Cindy Shemansky MEd, RN-BC, LNHA, FNGNA
Past President of the National Gerontological Nurses Association