Back to LNC Multimedia Programs and Audioprograms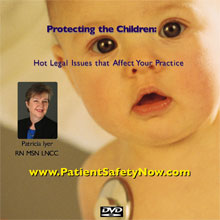 Protecting the Children DVD
Filmed in front of an audience of pediatric and neonatal nurses, Pat Iyer shares crucial information about three hot high risk issues: medication errors, catheter-associated blood stream infections, and airway obstruction.
You'll learn:
Why pediatric and neonatal patients are at particularly high risk for medication errors
Frequency, causes, and types of medication errors
The identity of high risk medications
Recommendations for best practices in prevention of errors and documentation
Hot Spots in Nursing Home Litigation
Nursing home documentation requirements, staffing, and regulations are markedly different from hospital ones. Learn from an experienced nursing expert witness about the special regulations that govern nursing home care. You will become familiar with the standard of care and best practices so that you may be better able to evaluate liability, damages and defenses for three hot spots in nursing home litigation.
Compartment Syndrome: Putting the Squeeze on Nursing Liability
You will learn to
• Identify the damages caused by compartment syndrome
• List the signs and symptoms of compartment syndrome
• Determine which patients are at higher risk of developing compartment syndrome
• Analyze nursing liability associated with a delay in diagnosis of compartment syndrome
Deciphering Operating Room Nursing Liability Webinar
You are a legal nurse consultant helping an attorney with a medical malpractice case involving the operating room. The attorney turns to you and asks, "Is this a viable claim?" Do you know how to screen operating room cases for merit? Do you know the roles, responsibilities and special language of the operating room? Gain insider information from an OR nurse, who will take you behind the OR door into the unique world of the operating room.
From Triage to the Courtroom: Legal Risks in ED Practice
Why is the triage seat in the emergency department the hottest one? How do split second decisions change lives? Learn how the intricacies of the triage role can create or avoid patient injury or allegations of ER nursing malpractice or negligence. Christine Macaulay is an experienced emergency department nurse who shares her knowledge of this challenging field.
When the Dream is Shattered: Legal Risks of Labor and Delivery
Obstetrical nursing practice is intertwined with high risk for patient injury. The signs of fetal distress must be quickly detected and acted upon in labor and delivery suites. Joanna McGrath, an experienced OB nurse educator and expert, shares tips about this highly litigated area.
Death in Seclusion or Restraints
This program will focus on the appropriate use of seclusion and restraints, and strategies to evaluate a psychiatric nursing malpractice claim involving seclusion or restraints. It is geared to attorneys, legal nurse consultants and healthcare providers. Dr. Wanda Mohr is a national expert on the use of restraints.
Navigating the Slippery Legal Slope of Falls
Falls result in both minor and serious injury types including fatalities. In the healthcare setting, falls occur for multiple reasons. When does a fall constitute malpractice and when is it simply a bad outcome? Dr. Gray-Miceli is a nationally recognized falls expert.
After the Fall
There are a variety of injuries a person can incur as the result of a fall. An expert orthopaedic nurse will help you bone up on fractures. You'll understand the complexities of these injuries – how they heal and the types of surgeries commonly used to treat them. Barbara Levin is an expert orthopaedic clinician.
IV Therapy: Complication or Malpractice?
An IV infiltration occurs. Caustic medication leaks out of a needle into the tissues. A piece of plastic catheter floats to the heart. A patient claims that a nerve injury resulted from a blood draw. Which is a complication and which is malpractice? IV therapy expert Sue Masoorli provides answers.
Take the Terror out of Testifying
Many legal nurse consultants fear giving deposition testimony. Two experienced expert witnesses share lessons learned from the hot seat.
SESSION 3: Long Term Care Case
Develop analytical skills of medical records focusing on the alleged negligence. Practice writing skills creating a chronology of the critical documents and information within medical record while guided by presenters. Presenters are experienced legal nurse consultants Angie Duke Haynes and Dana Jolly.
SESSION 4: Long Term Care Analysis
Prior to this session, create the chronology you began after Session 3. Review any missing medical records, if applicable. Discuss case finding with guidance through additional record review. With guidance from presenters, create your own analysis of the case facts. Discuss case evaluation and appropriate recommendations that should be provided to the attorney with emphasis on the format of the written analysis. Presenters are experienced legal nurse consultants Angie Duke Haynes and Dana Jolly.